Cybernetics and The 1960s
Film Series
This film series is being organized by STIM to supplement Andy Pickering's Seminar on The Sixties and Cybernetics (SOC 596 API) for Fall 2004. The course meets in 336 Lincoln Hall on Mondays from 3:00 to 5:30pm. Here is the syllabus for the course: The Sixties and Cybernetics.
Attendence is not required for seminar participants, and others interested in discussing Cybernetics, the 1960s, and film are welcome.
The films will be shown at 7pm on Saturday nights (except for Friday, October 15). For the first 3 weeks we have reserved Gregory Hall 213, which has a projection system. Depending on turnout, we may adjust the time and venue.
The films are intended to supplement the topics and readings for the seminar each week, and the list appears below.
Click on the red title of the film for a review or synopsis of each film.
All films will be shown in widescreen DVD video projection if available. WR will be shown in VHS video projection. The films of Nicholas Schoffer will be shown in 16mm, if we can get the prints.
Because Prof. Pickering will be in Berlin after November 2nd, the film series will be watching alternate movies during November and December, and will return to its original schedule when the seminar resumes in January. These return to the week numbers of the seminar, marked by "redux".
Please direct any questions about this series to Peter Asaro.
Week 1: Introduction
NO FILM
Week 2: W. Grey Walter: Psychiatry, Tortoises & Flicker

A Clockwork Orange (1971) dir. Stanley Kubrick, 137 mins.
Saturday, September 18th, 2004
7pm, Gregory Hall 213

Week 3: From Flicker to the Beats

Electroconvulsive Therapy Demo (1940s?) Burden Neurological Insitute, 5 mins.
AND
Naked Lunch (1991) dir. David Cronenberg, 115 mins.
Saturday, September 25th, 2004
7pm, Gregory Hall 213

Week 4: The Psychedelic 60s

Reflections on Love (1965) dir. Joe Massot, 11 mins.
AND
Blow-Up (1966) dir. Michelangelo Antonioni, 111 mins.
Saturday, October 2nd, 2004
7pm, Gregory Hall 213

Week 5: Strange Performances

Psychedelic Light Box (1967), 5 mins.
AND
The Trip (1967) dir. Roger Corman, 85 mins.
Saturday, October 9th, 2004
7pm, Gregory Hall 213

Week 6: Psychedelics and Anti-Psychiatry

The Mind Benders (1963) dir. Basil Dearden, 109 mins.
Friday, October 15th, 2004
9pm, Hill Street

Week 7: W. Ross Ashby: Psychiatry, Synthetic Brains and Cybernetics

Alphaville (1965) dir. Jean-Luc Godard, 99 mins.
Friday, October 22rd, 2004
9pm, Hill Street

Week 8: Stafford Beer: Management, Chile, Politics

Medium Cool (1969) dir. Haskell Wexler, 110 mins.
Friday, October 29th, 2004
9pm, Hill Street

Week 9: 60's & Motorcycles

Girl on a Motorcycle [released in US as Naked Under Leather] (1968) dir. Jack Cardiff, 91 mins.
Friday, November 5th, 2004
9pm, Hill Street
Week 10: New Music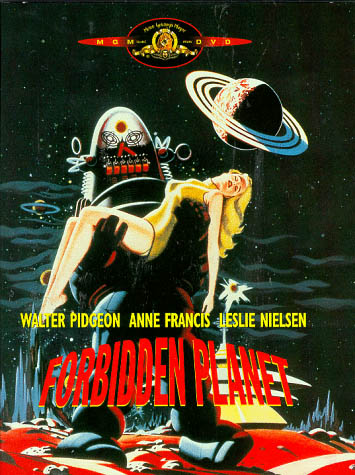 Soundtrack Music notes:
We designed and construct electronic circuits which function electronically in a manner remarkably similar to the way that lower life-forms function psychologically. There is a comprehensive mathematical science explaining it, called "Cybernetics", which is concerned with the Control and Communication in the Animal and Machine. It was first propounded by Prof. Norbert Weiner of M.I.T. who found that there are certain natural laws of behavior applicable alike to animals (including humans) and electronic machines.
In scoring FORBIDDEN PLANET--as in all our work--we created individual cybernetic circuits for particular themes and leit motifs, rather than using standard sound generators. Actually, each circuit has a characteristic activity pattern as well as a "voice."
Most remarkable is that the sounds which emanate from these electronic nervous systems seem to convey strong emotional meaning to listeners.
We were delighted to hear people tell us that the Tonalities in FORBIDDEN PLANET remind them of what their dreams sound like.
There were no synthesizers or traditions of electronic music when we scored this film, and therefore we were free to explore "terra incognito" with all its surprises and adventures.
--Louis & Bebe Barron
Forbidden Planet (1956) dir. Fred Wilcox, 98 mins.
Friday, November 12th, 2004
9pm, Hill Street
SPRING SEMESTER BEGINS JANUARY 18th.
Week 8 redux: Stafford Beer: Management, Chile, Politics

WR: Mysteries of the Organism (1971) dir. Dusan Makavejev, 84 mins.
Friday, January 28, 2005
10pm, Hill Street

Week 9 redux: Biological Computers & Hylozoism; Syntegrity and Spirituality

La Vallee [released in US as The Valley (Obscured by Clouds)](1972) dir. Barbet Schroeder, 106 mins.
Saturday, February 5th, 2005
10pm, Hill Street

Week 10 redux: New Age and New Music

One Plus One [released in US as Sympathy for the Devil] (1970) dir. Jean-Luc Godard, 101 mins.
Saturday, February 12th, 2005
10pm, Hill Street

Week 12 redux: Motorcycles & Rebel Culture


Scorpio Rising (1964) dir. Kenneth Anger, 30 mins.
AND
Easy Rider (1969) dir. Dennis Hopper, 95 mins.
Saturday, February 19th, 2005
10pm, Hill Street

Week 13 redux: Reflections

Don't Look Back (1967) dir. D.A. Pennebaker, 96 mins.
Saturday, February 26th, 2005
10pm, Hill Street

Week 14: More Psychedelica

Psych-Out (1968) dir. Richard Rush, 90 mins.
Saturday, March 5th, 2005
10pm, Hill Street, Champaign

Week 15: More Flicker

Videodrome (1983) dir. David Cronenberg, 89 mins.
Saturday, March 12th, 2005
10pm, Hill Street, Champaign

Week 16: More Mental Self-Experimentation

Altered States (1980) dir. Ken Russell, 102 mins.
Saturday, March 19th, 2005
10pm, Hill Street
Week 11 redux: Gordon Pask: Art, Theatre, Architecture

Film selections by or about: Charles & Ray Eames, Buckminster Fuller, Nicholas Schoffer
Saturday, March 26th, 2005
10pm, Hill Street

Other Links