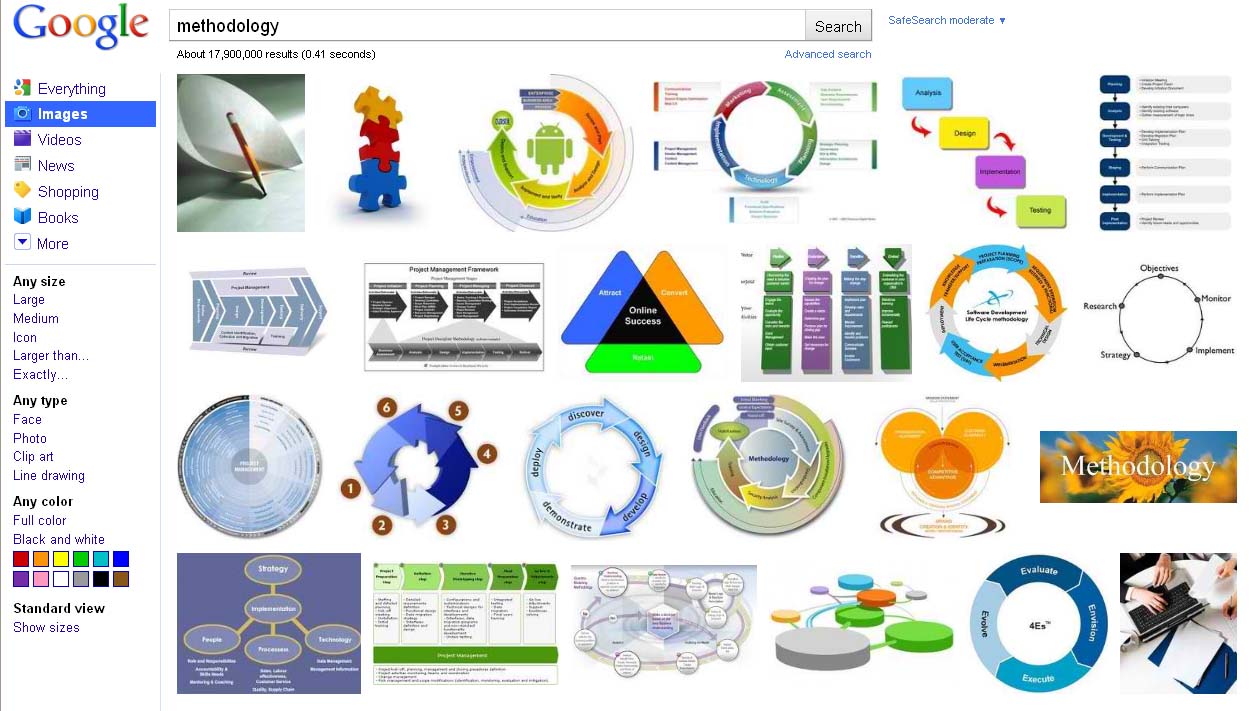 Designing Methodologies for Studying Media
Department of Media Studies and Film
The New School
Spring 2011

Instructor: Peter Asaro asarop AT newschool.edu
TA: Allison Cooper coopa662 AT newschool.edu
Time: Tuesdays, 6:00 - 7:50 pm
Location: 6 East 16th Street 904

Course webpage is here: http://peterasaro.org/courses/2011Methods.html

Course blog is here: http://designingmethods11.wordpress.com
Course Description
This course explores the design of research methodologies for the systematic study of media—how and why media are made, distributed, used, and understood. Because media systems can be very complex, and studied from various perspectives, it is important for media researchers to be able to deploy a range of techniques, and especially to combine techniques, in ways that allow for meaningful, clear, and critical research. The course emphasizes the framing of questions, as well as the choice of best methods for research, and how the choice of methods influences the significance, meaning, and impact of the results. This includes ethical considerations of research, such as protecting subjects' privacy and anonymity. The class will give a survey of various types of empirical methods, including qualitative ones, such as ethnography, participant observation, focus groups, interviews, auto-ethnography, and rhetorical analysis; and quantitative ones, such as sampling, surveys, content analysis, audience analysis, "follow the money" techniques. We look at different examples of how these methods can be effectively combined, and at various resources or studying media, especially on-line information and data. Assignments will consist of several small research projects involving different methods, and a larger research project employing an original methodology.

The goal of the course is to prepare you to design your own methodologies to better answer your research questions. As such we will focus more one the concepts and issues involved with various methods, rather than with the details and specific techniques of the various methods. That said, you will be asked to prepare research questions and employ various research methods through short assignments. It is expected that you will bring your own research interests to class to help guide your projects, as well as class discussions.

COURSE REQUIREMENTS & GRADING:
Class Attendance and Participation: 30%
Short Projects and Blog Assignments: 40%
Final Paper and Presentation: 30%
Class Attendance and Participation: 30%
You are expected to have thoroughly and thoughtfully read the assigned texts and to have prepared yourself to contribute meaningfully to the class discussions. For some people, that preparation requires taking copious notes on or abstracting the assigned readings; for others, it entails supplementing the assigned readings with explanatory texts found in survey textbooks or in online sources; and for others still, it involves reading the texts, ruminating on them afterwards, then discussing those readings with classmates before the class meeting. Whatever method best suits you, I hope you arrive at class with copies of the assigned reading, ready and willing to make yourself a valued contributor to the discussion, and eager to share your own relevant media experiences and interests. Your participation will be evaluated in terms of both quantity and quality.
As this is a survey course, regular attendance is essential. You will be permitted two excused absences (you must notify me of your inability to attend before class, via email or phone). Any subsequent absences and any un-excused absences will adversely affect your grade.
Short Projects & Blog Assignments: 40%
You will be required to make a blog entries each week. Usually this will require you to conduct a short research project or exercise, and then report on it with a brief summary on the blog. Sometimes, the weekly assignment will simply ask you to comment on the readings for the week, or answer a question. Regardless, the assignment for the week will appear on right column of the blog.
You will be required to create an account on WordPress, and send me an email with the EMAIL ADDRESS used to creat the account, so that you can be added as authors for the collective course blog. Everyone will be posting to a common blog page, and this will be readable by your classmates, but should be limited to only other class emmbers, and not the whole internet. When writing and making comments, you are expected to treat other students with the same respect and courtesy as you should in the classroom. You are also expected to respect rules of academic integrity, research ethics, and copyright when posting to the blog.

Assignments will not be graded, but I will read them and occasionally comment on them myself.
Blog posts and comments will be due before the start of each class. They are time stamped when you post them. Discussion questions for the next week will be posted shortly after each class.
Final Paper and Presentation: 30%
Proposal=5%, Presentation=5%, Paper=20%
Proposals Due: March 29
Length: 1000 words (approx. 2-3 pages)
Presentations: May 3 and May 10 (sign-up)
Length: 5 minute presentation, 5 minute discussion
Paper Due: May 12
Length: 2500-3000 words (approx. 6-10 pages)

There will be no final exam. Instead, you will be asked to design an original research project. This will consist of motivating and framing a research question, operationalizing the question, designing and choosing a methodology, gathering the necessary data, and analyzing and summarizing your research data.
This first step of the process with be to motivate, frame and operationalizing of your research question. This will be done in the Research Proposal, and will be due March 29. This will consist of a 2-3 page (1000 word, Times New Roman, 12pt font, double spaced) paper which must be emailed to me before class on March 29.
Based on my feedback to you proposal, you will then conduct your research.
The last two class sessions will be devoted to student's presentations of their research. This will allow the class to collectively discuss each project and offer suggestions. You are encouraged to use this feedback to improve your project before submitting your final paper. Each student will be given approximately 10 minutes, and will be expected to describe their project in 5 minutes, allowing 5 minutes for discussion. You may use visuals, including powerpoints or videos, if you choose, but are not required to.
Research topics can address any aspect of media research, including (but not limited to) documentary, oral history, audience studies, or studies of media objects/products, practices or organizations/institutions.
Your paper should be submitted to me in electronic form (Word Perfect, MS Word, PDF, HTML and plain TXT are all fine). The final paper should consist of a 5-10 page (2500-3000 word, Times New Roman, 12pt font, double spaced) paper which must be emailed to me by May 12. Late papers will not be accepted, as I must turn in grades shortly thereafter.
READINGS
All readings will be available electronically, via the web, in PDF, MS Word, HTML, or similar format.
Part I: What are Research Methods?
Week 1: January 25
Introduction
Course Overview

How to create a WordPress Account, and make a Blog Entry

Watch: The Persuaders (2004) PBS Frontline
Week 2: February 1
Empirical Research and the Scientific Method
Required:
Thomas S. Kuhn, "Chapters I-X," The Structure of Scientific Revolutions, 3rd. ed., Chicago: University of Chicago Press, 1962, pp. 1-135.

Paul Feyerabend, "Introduction, Analytic Index, and Parts 1-5," Against Method: Outline of an Anarchistic Theory of Knowledge, 1975, pp. 1-53.
Recommended:
Week 3: February 8
Research Ethics
Required:
Recommended:
Robert V. Kozinets, "Chapter 8: Conducting Ethical Netnography", Netnography: Doing Ethnographic Research Online. New York: SAGE, 2009, pp. 136-156.

Stephen A. Small, "Action-Oriented Research: Models and Methods," Journal of Marriage and Family, Vol. 57, No. 4 (Nov., 1995), pp. 941-955.
Week 4: February 15
The Research Question: Formulation and Operationalization
Required:
Recommended:
http://en.wikipedia.org/wiki/Operationalization
Part II: Qualitative Methods
Week 5: February 22
Ethnography I: What is Ethnography?
Required:
Recommended:
Watch: Jad Abumrad, MaxFunCon Lecture on Producing Radiolab, December 1, 2010

Clifford Geertz, Works and Lives: The Anthropologist as Author, Stanford: Stanford University Press, 1988, pp. 1-48.

George E. Marcus and Dick Cushman, "Ethnographies as Texts," Annual Review of Anthropology, Vol. 11 (1982), pp. 25-69.
Week 6: March 1
Ethnography II: Interviewing
Required:
Recommended:
Howard S. Becker and Blanche Geer, "Participant observation and interviewing: A comparison," Human Organization, 1957, pp. 28-32.

Paul Atkinson and Martyn Hammersley, "Ethnography and participant observation," Handbook of Qualitative Research, 1994.

http://en.wikipedia.org/wiki/Participant_observation
Week 7: March 8
Case Studies
Required:
Khairul Baharein Mohd Noor, "Case Study: A Strategic Research Methodology," American Journal of Applied Sciences, 2008, 5 (11): 1602-1604.

Michael Burawoy, "The Extended Case Method," Sociological Theory, Vol. 16, No. 1 (Mar., 1998), pp. 4-33.

George E. Marcus, "Ethnography in/of the World System: The Emergence of Multi-Sited Ethnography," Annual Review of Anthropology, Vol. 24 (1995), pp. 95-117.
Recommended:
George E. Marcus, "Ethnography Two Decades After Writing Culture: From the Experimental to the Baroque," Social Thought & Commentary, 2006, 1127-1145.

George E. Marcus, "The End(s) of Ethnography: Social/Cultural Anthropology's Signature Form of Producing Knowledge in Transition," Cultural Anthropology, 2008, Vol. 23, 1, pp. 1-14.

"The Case Study as a Research Method" Univesity of Texas iSchool

http://en.wikipedia.org/wiki/Case_study
Spring Break March 14-18
Week 8: March 15
NO CLASS

Week 8: March 22
Virtual Methods & Netnography
Required:
E. Gabriella Coleman, "Ethnographic Approaches to Digital Media," Annual Review of Anthropology, (October 2010) Vol. 39: 487-505.

Christine Hine (ed.), Selections from Virtual Methods:: Issues in Social Research on the Internet. New York: Berg Publishers, 2005, pp. 1-34, 199-207.

Robert V. Kozinets, "Chapters 3-6", Netnography: Doing Ethnographic Research Online. New York: SAGE, 2009, pp. 41-117.
Recommended:
Suzanne C. Beckmann and Roy Langer, "Netnography: Rich insights from online research," Insights, 14(6), September 2005.

http://en.wikipedia.org/wiki/Netnography

Watch: Amber Case: We are all cyborgs now, 2010 TED, 20 min.
Week 9: March 29
FINAL PAPER PROPOSALS DUE
Visual Methods
Required:
Gillian Rose, "Introduction, Chapters: 1, 2," Visual Methods: An Introduction to the Interpretation of Visual Materials, London: SAGE, 2001, pp. 1-53.

Marcus Banks, "Visual research methods," Social Research Update,Winter 1995.
Recommended:
Bradley L. Garrett, "Videographic geographies: Using digital video for geographic research," Progress in Human Geography, 6 December, 2010, 1-21.
Part III: Quantitative Methods
Week 10: April 5
Statistics
Required:
Recommended:
Coalition for Innovative Media Measurement

J.M. Steele. "Darrell Huff and Fifty Years of How to Lie with Statistics." Statistical Science, 20 (3), 2005, 205–209.

Watch: Lies, damned lies and statistics (about TEDTalks), TED Talk 2010, 6 min.

Week 11: April 12
Sampling and Counting Things
Required:
Recommended:
http://en.wikipedia.org/wiki/Sampling (statistics)

Watch: Stephen Wolfram: Computing a Theory of Everything, TED Talk 2010, 20 min.

Watch: Gary Wolf: The quantified self, TED Talk 2010, 5 min.

Week 12: April 19
Content Analysis
Required:
Gillian Rose, "Chapter 3: Counting what you (think you) see," Visual Methods: An Introduction to the Interpretation of Visual Materials, London: SAGE, 2001, pp. 54-68.

"An Introduction to Content Analysis," Colorado State University
Recommended:
http://en.wikipedia.org/wiki/Content_analysis

John W. Pracejus, G. Douglas Owen, and Thomas C. O'Guinn, "How Nothing Became Something: White Space, Rhetoric, History, and Meaning, " Journal of Consumer Research, vol. 33, 2006, pp. 82-90.


Week 13: April 26
Mixing Methods
Required:
Gillian Rose, "Chapters 8, Other Methods, Mixing Methods" Visual Methods: An Introduction to the Interpretation of Visual Materials, London: SAGE, 2001, pp. 187-204.

James Clifford, "On Collecting Art and Culture," The Predicament of Culture: Twentieth Century Ethnography, Literature and Art, Cambridge: Harvard University Press, 1988, pp. 215-251.
Recommended:
Watch: Ethan Zuckerman: Listening to global voices, TED Talk 2010, 20 min.

Week 14: May 3
Final Presentations
Week 15: May 10
Final Presentations


All Final Papers Due May 12 by 8pm.