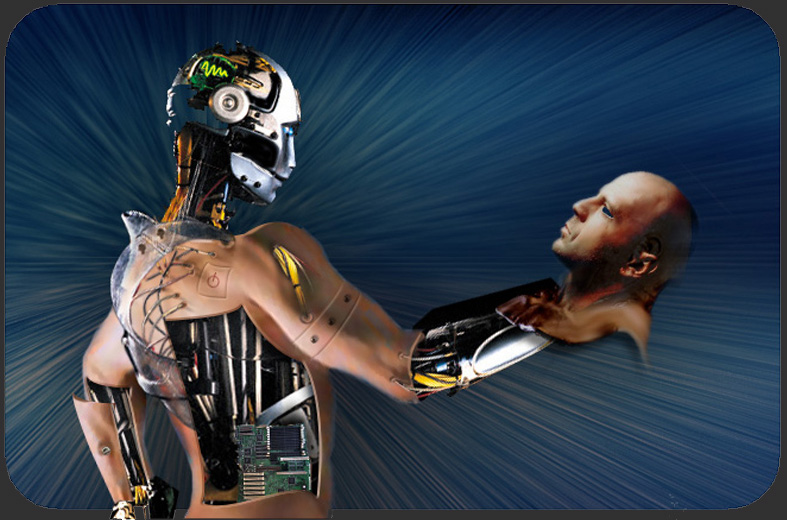 Robots as Media
Department of Media Studies and Film
The New School
Spring 2011

Instructor: Peter Asaro asarop AT newschool.edu
Time: Thursday, 4:00 - 5:50 pm
Location: R Johnson/Kaplan 66 West 12th 517

Course webpage is here: http://peterasaro.org/courses/2011Robots.html

Course blog is here: http://robotsasmedia11.wordpress.com
Course Description
As robots begin to move outside of factories and into a variety of new roles—from vacuuming floors to performing surgeries, disarming bombs, and driving cars—it is clear that they represent a radical new form of mediated information and agency. Predator drone robots have become the primary tool of the U.S. government in its war on terror, and, at the same time, journalists continue to refer to military robots as "Terminators." These observations raise the question of how our ongoing development and use of robotic media is being shaped by media representations of robotics. This course examines the complex relationship between robots and the media, from both the perspective of representations of robots in the media—including film, television, and news media—and the development of robots as a new form of media. In the first part of the course we consider the types of narrative roles that robots have occupied, as well as how the concepts of robotics and automation are reflected in the social and cultural contexts in which those media are produced. The second part of the course explores recent developments in robotics as forms of digital media, both continuous with and distinct from other types of digital media. We assess how contemporary debates about the potential uses and social impacts of robotic media intersect with popular narratives about robotics, both pessimistic and optimistic. The class also considers what makes contemporary discourses on robotics unique, and what that might tell us about contemporary society and culture. Course materials include readings from a variety of popular, academic, and literary sources—among them texts by Katherine Hayles, Ken Goldberg, Rodney Brooks and Philip K. Dick—and video clips from TV and films including Blade Runner, Robo-Cop, Battlestar Galactica, Surrogates, and Fast, Cheap and Out of Control. Students are expected to produce a short mid-term, and longer final assignment—either a research paper, film or digital media project.
COURSE REQUIREMENTS & GRADING:
Class Attendance and Participation: 20%
Blog Entries & Comments: 25%
Mid-Term Exam: 25%
Final Paper: 30%
Class Attendance and Participation: 20%
You are expected to have thoroughly and thoughtfully read the assigned texts, viewed the assigned videos, and to have prepared yourself to contribute meaningfully to the class discussions. For some people, that preparation requires taking copious notes on the assigned readings; for others, it entails supplementing the assigned readings with explanatory texts found in survey textbooks or in online sources; and for others still, it involves reading the texts, ruminating on them afterwards, then discussing those readings with classmates before the class meeting. Whatever method best suits you, I hope you arrive at class with copies of the assigned reading, ready and willing to make yourself a valued contributor to the discussion, and eager to share your own relevant media experiences and interests. Your participation will be evaluated in terms of both quantity and quality.
As this is a seminar, regular attendance is essential. You will be permitted two excused absences (you must notify me of your inability to attend before class, via email or phone). Any subsequent absences and any un-excused absences will adversely affect your grade.
Blog Entries & Comments: 25%
Students will be required to make weekly blog entries commenting on the readings for the week. You will be required to create an account on WordPress, and send me an email with their LoginID and the EMAIL ADDRESS used to create the account, so that you can be added as authors for the collective course blog. Everyone will be posting to a common blog page, and this will be readable by your classmates, as well as the entire internet. Any discussions you would like to keep within the class should take place on the Blackboard discussion space. When writing and making comments, you are expected to treat other students with the same respect and courtesy as you should in the classroom.

Discussion questions will be posted each week to help stimulate the writing process. You are also expected to read the posts of your classmates, and encouraged to comment on other people's posts each week. Posts will not be graded (they will recieve 2, 1 or 0 points based on timely completion), but I will read them and occasionally comment on them myself.
Blog posts will be due before the start of each class. They are time stamped when you post them, and late posts will only receive half credit (1 point). Discussion questions for the next week will be posted shortly after each class.
Mid-Term Take-Home Exam: 25%
Questions Given: March 3
Answers Due: March 10
There will be a midterm project due before Spring Break.
The Mid-Term Exam will be a Take-Home Essay Exam. Three (3) Exam Questions will be posted on the Blog assignment page (in lieu of the regular Blog Assignment). You are to choose one (1) Exam Question to answer in a 1000 word essay (approx. 3-5 pages, Times New Roman, 12pt font, double spaced)

IMPORTANT: Your paper should be submitted to me directly by email in electronic form (Word Perfect, MS Word, PDF, HTML and plain TXT are all fine). All quotations and references must be properly cited.DO NOT POST YOUR ANSWERS ON THE BLOG!

 
Final Paper: 30%
Proposals Due: April 14
Paper Due: May 12
Length: 3000-5000 words (approx. 12-18 pages)

There will be no final exam. Instead, a 3000-5000 word (Times New Roman, 12pt font, double spaced) term paper is due on Thursday, May 12th at 7:00PM. If that time will not work for you, you need to make other arrangements by Thursday, May 5th at the latest.
Paper topics can address any aspect of the topics and materials discussed in class. They can focus on the theories themselves, or in applying the theories to media phenomena. Papers should include materials beyond what is directly covered in class, as appropriate for your topic. The blog will provide many ideas for papers, as will class discussion. You will have to write a proposal for your paper by April 14, but you should be thinking about possible topics throughout the semester.
Your paper should be submitted to me in electronic form (Word Perfect, MS Word, PDF, HTML and plain TXT are all fine). Late papers will not be accepted, as I must turn in grades shortly thereafter.
FILMS & DVDS
Most of the films and TV programs that will be assigned are available from a variety of sources. Many are available through the New School Library on DVD. In addition, they can be purchased from most book or video stores, rented from most video shop, or found through Netflix. For the videos which cannot be obtained easily in these ways, other means will be provided for you to view these films prior to class.
Here is a list of all the films and TV programs we will be watching and discussing. Short clips will be shown in class, but you are expected to view the entire work prior to class.
FILMS

Watch: Fritz Lang, Metropolis, Universum Film, 1927, 153 min.

Watch: Fred M. Wilcox, Forbidden Planet, MGM, 1956, 98 min.

Watch: Michael Crichton, Westworld, MGM, 1973, 93 min.

Watch: Bryan Forbes, The Stepford Wives, Columbia Pictures, 1975, 115 min.

Watch: Donald Cammell, Demon Seed, MGM,1977,94 min.

Watch: Ridley Scott, Blade Runner, Warner Bros., 1982, 117 min.

Watch: James Cameron, The Terminator, Orion Pictures, 1984, 107 min.

Watch: John Badham, Short Circuit, David Foster Productions, 1986, 98 min.

Watch: Susan Seidelman, Making Mr. Right, Orion Pictures, 1987, 98 min.

Watch: Paul Verhoeven, RoboCop, MGM, 1987, 102 min.

Watch: Chris Columbus, Bicenntinial Man, Columbia Pictures, 1999, 132 min.

Watch: Peter Asaro, Love Machine, Kaiczech and Savario, 2001, 110 min.

Watch: Steven Spielberg, A.I.: Artificial Intelligence, Warner Bros., 2001, 146 min.

Watch: Alex Proyas, I, Robot, 20th Century Fox, 2004, 115 min.

Watch: Alex Rivera, Sleep Dealer, Likely Story, 2008, 90 min.

Watch: Andrew Stanton, Wall-E, Disney Pixar, 2008, 98 min.

Watch: Jonathan Mostow, Surrogates, Touchstone Pictures, 2009, 89 min.

TV

Watch Excerpts from:
Battlestar Galactica
Caprica
Terminator: The Sarah Connor Chronicles



READINGS
All readings will be available electronically, via the web, in PDF, MS Word, HTML, or similar format.
Introduction
Week 1: January 27
Course Introduction
Course Syllabus Overview

How to create a WordPress Account, and make a Blog Entry

Watch: Honda: Living with Robots, YouTube, 9 min.
Recommended:
Turing, A. M. (1950) "Computing Machinery and Intelligence," Mind 59, pp. 433-460.

Ashby, W. R. (1952) "Can a Mechanical Chess-player Outplay its Designer?," British Journal for the Philosophy of Science, 3(9), pp. 44-57.
Part I: Cinematic Representations: Love, War & Labor
Week 2: February 3
Birth of the Robot
Required:
Recommended:
Week 3: February 10
Fears of Automation
Required:
Recommended:
Richard Powers, "What is Artificial Intelligence?", Op-Ed, New York Times, February 5, 2011.

David F. Noble, "A Technology of Social Production: Modern Management and the Expansion of Engineering", In America By Design: Science, Technology and the Rise of Corporate Capitalism, Oxford, UK: Oxford University Press, 1977, pp. 257-324.

http://en.wikipedia.org/wiki/Fordism

http://en.wikipedia.org/wiki/Taylorism

Lewis Yablonsky, Robopaths: People as Machines, Baltimore, MD: Penguin Books Inc., 1972.

 
Week 4: February 17
Posthumanism & Cyberdystopia
Required:
Recommended:
Week 5: February 24
Reaganomic Robots & Cyborgs
Required:
Recommended:
Watch: James Cameron, Terminator 2: Judgement Day, TriStar Pictures, 1991, 137 min.

Watch: Ron Howard, Gung Ho, Paramount Pictures, 1986, 112 min.

Donna Haraway, "A Cyborg Manifesto: Science, Technology, and Socialist-Feminism in the Late Twentieth Century," in Simians, Cyborgs, and Women: The Reinvention of Nature, New York, NY: Routledge, 1991: 149-181.

Peter Asaro, "Cyborg," in Raul Rojas (ed.), The Encyclopedia of Computers and Computer History, London, UK: Fitzroy Dearborn Publishers, 2001: 221.

A. Samuel Kimball, "Conceptions and Contraceptions of the Future: Terminator 2, The Matrix, and Alien Resurrection," Camera Obscura, 50 (Volume 17, Number 2), 2002, pp. 69-108.

Hassan Melehy, "Images Without: Deleuzian Becoming, Science Fiction Cinema in the Eighties," Postmodern Culture, 2005, 5(2),1-34.

 
Week 6: March 3
Robots as Children
MIDTERM EXAM QUESTIONS POSTED
Required:
Recommended:
Philip Kerr, "Ghosts in the Machine (Review of AI)," New Statesman, September 10, 2001, 44-45.

Luscius Shepard, "AIeeeeeeeeeee!" Fantasy and Science Fiction, 2001, 112-117.

Watch: John Badham, Short Circuit, David Foster Productions, 1986, 98 min.

Watch: Susan Seidelman, Making Mr. Right, Orion Pictures, 1987, 98 min.

 
Week 7: March 10
TV Robots in post-9/11 America: Battlestar Galactica, Terminator: The Sarah Connor Chronicles
MIDTERM EXAMS DUE
Required:
Recommended:
Jonah Goldberg, "How Politics Destroyed a Great TV Show: The cautionary tale of Battlestar Galactica," Commentary, October, 2009, 34-37.

 
Spring Break March 14-18
Week of March 17
NO CLASS

Part II: The Coming Robot Revolution
Week 8: March 24
Robot Revolution: Appliances, Self-Driving Cars & Smart-Homes
Required:
Recommended:
Hans Moravec, "The Age of Robots", Robot: Mere Machine to Transcendent Mind, Oxford: Oxford University Press, 1999, 127-162.

Sung, J. Y., L. Guo, R. Grinter, and H. I. Christensen (2007) "'My Roomba is Rambo': Intimate Home Appliances," in J. Krumm et al. (eds.) UbiComp 2007, LNCS 4717, pp. 145-162.

Watch: Donald Cammell, Demon Seed, MGM,1977,94 min.

Watch: Dennis Hong: My seven species of robot, Ted Talk 2009, 16 min.

 
Week 9: March 31
Sexuality & Fetish
Required:
Recommended:
Watch: Allison De Fren, The Mechanical Bride, rough cut, forthcoming.

Watch: David Levy "Love and Sex with Robots" Interview, The Colbert Report, 2007.

 
Week 10: April 7
Robot Companions: Emotions, Healthcare, Eldercare & Childcare
Required:
Recommended:
Watch: Craig Gillespie, Lars and the Real Girl, 2007, 106 min.

Watch: David Hanson: Robots that "show emotion", 2010 TED talk, 5 min.

Watch: Catherine Mohr: Surgery's past, present and robotic future, 2010 TED talk, 19 min.

Watch: Caleb Chung plays with Pleo, 2010 TED talk

Fellous, J. M. (2004) "From Human Emotions to Robot Emotions," American Association for Artificial Intelligence Spring Symposium 3/2004, Stanford University Keynote Lecture.

Sloman, A. and M. Croucher (1981) "Why Robots Will Have Emotions," Proceedings of IJCAI, Vancouver.

"Emotion" MIT Encyclopedia of Cognitive Science, Cambridge, MA: MIT Press, 1999.

"Emotion" in Stanford Encyclopedia of Philosophy.

 
Week 11: April 14
Telepresence & Robotic Art
FINAL PAPER PROPOSALS DUE
Required:
Recommended:
Watch: Jonathan Mostow, Surrogates, Touchstone Pictures, 2009, 89 min.
Part IV: Media and Aesthetics
Week 12: April 21
Military Robotics I: Technology & Applications
Required:
Recommended:
Rodney Brooks, "Them and Us," "Us as Them," and "Epilogue," in Flesh and Machines: How Robots Will Change Us, New York: Pantheon Books, 2002, pp. 197-239.

 
Week 13: April 28
Military Robotics II: Ethics & Arms Control
Required:
Recommended:
International Committee for Robot Arms Control (ICRAC) website.

Wendell Wallach and Colin Allen, "Does Humanity Want Computers Making Moral Decisions" and "Can (Ro)bots Really be Moral?" in Moral Machines: Teaching Robots Right from Wrong. Oxford: Oxford University Press, 2009, pp. 57-71.

Ron C. Arkin (2007). Governing Lethal Behavior: Embedding Ethics in a Hybrid Deliberative/Reactive Robot Architecture, Part I. Motivation & Philosophy,GVU Technical Report GIT-GVU-07-11, pp.1-8.

J. Borenstein (2008) "Ethics of Autonomous Military Robots," Studies in Ethics, Law and Technology, 2 (1), pp. 1-17.

Rob Sparrow (2007). "Killer Robots," Journal of Applied Philosophy, Vol. 24, No. 1, 62-77.

Peter Asaro (2009). " Modeling the Moral User: Designing Ethical Interfaces for Tele-Operation," IEEE Technology & Society, 28 (1), 20-24.

Peter Asaro (2009). " What Should We Want from a Robot Ethic?," in Rafael Capurro and Michael Nagenborg (eds.) Ethics and Robotics, Amsterdam, The Netherlands: IOS Press.

 
Week 14: May 5
Robotic Vision
Required:
Recommended:
Week 15: May 12
Guest Lecture TBA
Final Papers Due
Required: