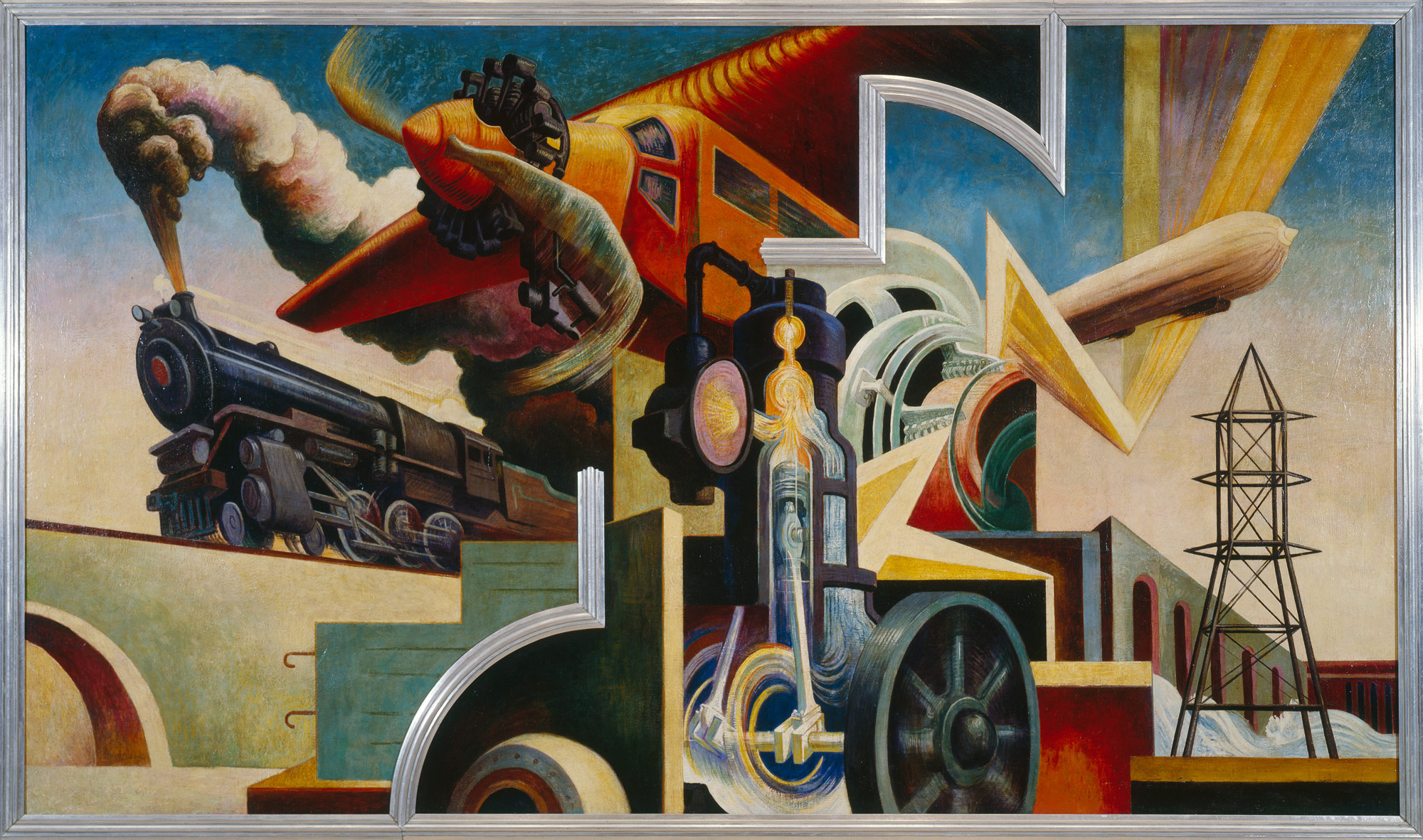 Thomas Hart Benton's, "Instruments of Power" from the "America Today" murals, originally New School for Social Research, now Metropolitan Museum of Art, 1930-31.
"Automation is information and it not only ends jobs in the world of work, it ends subjects in the world of learning.
It does not end the world of learning. The future of work consists of earning a living in the automation age.
This is a familiar pattern in electric technology in general. It ends the old dichotomies between culture and technology,
between art and commerce, and between work and leisure. Whereas in the mechanical age of fragmentation
leisure had been the absence of work, or mere idleness, the reverse is true in the electric age. As the age of information demands
the simultaneous use of all our faculties, we discover that we are most at leisure when we are most intensely involved,
very much as with the artists in all ages."
- Marshall McLuhan, Understanding Media: The Extensions of Man (1964), p. 378.



Technology, Power & Social Change
School of Media Studies
The New School
Fall 2021

Instructor:

Peter Asaro

asarop AT newschool.edu
NMDS:

5333

CRN:

11100


Time:

Mondays, 6:00 - 7:50 pm (ET)


Location:

Synchronous Online (ZOOM)
Course webpage is here: http://peterasaro.org/courses/2021TechPowerChange.html
Course blog is here: http://techpowerchange2021.wordpress.com/
Course Description
The notion that technologies are drivers of social change is widely held, but the reality is far more complicated. In this course we will examine the relationship between technology and society, and between technology and culture, inquiring into the values and assumptions that shape them and the conflicts that they in turn give rise to. We will focus in particular on work that has emerged in the last quarter century on the impact of digital media technologies on social relations and on cultural debates. Topics range from how users interact with technologies to ideas of the posthuman, from the impact of the Internet on journalism to the changing nature of work, from how we construct relationships to the virtues of the virtual. Students have the option of writing a research paper or developing a research-based project on a social change movement. Students will be required to make regular blog entries based on the assigned readings, participate in online class discussions via Zoom, and write one 6-12 page paper, or create short multi-media presentation, during the course of the semester.
COURSE REQUIREMENTS & GRADING:
Class Attendance & Participation 30%
Blog Entries & Comments: 30%
Paper or Media Project Proposal 10%
Paper or Media Project Presentation 10%
Final Paper or Media Project: 20%
Class Attendance and Participation: 30%
You are expected to have thoroughly and thoughtfully read the assigned texts, viewed the assigned videos, and to have prepared yourself to contribute meaningfully to the class discussions. For some people, that preparation requires taking copious notes on the assigned readings; for others, it entails supplementing the assigned readings with explanatory texts found in survey textbooks or in online sources; and for others still, it involves reading the texts, ruminating on them afterwards, then discussing those readings with classmates before the class meeting. Whatever method best suits you, I hope you will arrive at class with copies of the assigned reading, ready and willing to make yourself a valued contributor to the discussion, and eager to share your own relevant media experiences and interests. Your participation will be evaluated in terms of both quantity and quality.
As this is a seminar, regular attendance is essential. You will be permitted two excused absences (you must notify me of your inability to attend before class, via email). Any subsequent absences and any un-excused absences will adversely affect your grade.

If you must take the class "asynchronously" due to scheduling or time-zone conflicts, you must make arrangements with me for your class participation at the beginning of the semester. In most cases this will consist of watching the posted videos of the weekly discussion, and posting an additional weekly blog entry with your reflections on the week's topic and readings (approx. 1 page or 500 words).
Blog Entries & Comments: 30%
You will be required to make weekly blog entries commenting on the assigned readings and any additional related material you discover on your own and wish to share with the class.

You will be required to create an account on WordPress (if you do not already have one), and will receive an email invitation to be added as an author to the private collective course blog. Everyone will be posting to a common blog page, and this will be readable by your classmates, but not by people outside of the class. When writing and making comments, you are expected to treat other students with the same respect and courtesy as you should in the classroom, and to cite the sources of any text or quotes you use in accordance with academic honesty policies.

You are also expected to read the posts of your classmates, and encouraged to comment on other people's posts each week. Posts will not be graded but I, and other students, will read them and occasionally comment on them. There will be 12 posts worth 2 Points (on-time) or 1 point (late) required through the semester (not required on days when papers/projects are due), thus 24 points, plus 6 points for comments on the posts of other students, totalling 30% of your grade.
Blog posts will be due before the start of each class. They are time stamped when you post them, and late posts will only receive half credit (1 point). There is no specific assignment for each post, but they should express your reactions to and reflections on your readings and the topic for that week.
Paper or Media Project Proposal 10%
Paper or Media Project Presentation 10%
Final Paper or Media Project: 20%
There will be no final exam.

A research project is required for the semester, which will developed and presented in stages. There are 2 options for the project: Research/Analysis Paper Option, and Media Project Option.

Paper or Media Project Proposal Due: October 11
Paper Length: 1000-3000 words (approx. 2-6 pages), Media Projects of equivalent effort

Paper or Media Project Presentation Due: December 6 or 11
Presentation Length: 10 minutes + 5 minutes for questions/discussion (approx. 5-10 slides if used)

Final Paper or Media Project Due: December 17
Paper Length: 3000-6000 words (approx. 6-10 pages), Media Projects of equivalent effort

Project topics can address any aspect of the topics and materials discussed in class. Projects should include materials beyond what is directly covered in class, as appropriate for your topic. In other words, they should require research, which can include action research and direct participation. Ideally you should focus on a social problem, or effort at social change, that addresses the roles of power and technology. You may pursue this as an outside observer, or bettter as a participant-observer in an effort directed towards social change. You should examine the underlying social problem, the challenges facing social change, strategies for overcoming those challenges, and the theory of change which are guiding the movement, or how you think these could be improved.

Research Paper Option
This will take the form of a 3000-6000 word (approx 6-12 pages, Times New Roman, 12pt font, double spaced) term paper. You should draw upon sources from the course readings as well as beyond the course readings. You should cite your sources properly.

Media Project Option
Media Projects can take the form of film and video pieces, audio documentaries, websites, interactive media, performance pieces, infographics, a social media campaign strategy, or other ideas. In addition to the actual media product, you will need to submit a short written piece explaining your project, its motivations, methods and what you did to realize it.

Papers should be submitted to me in electronic form by email (Word Perfect, MS Word, PDF, HTML and plain TXT are all fine). All assignments are due at 6pm at the start of class on the day they are due. Late final papers will not be accepted, as I must turn in grades shortly thereafter.
READINGS
All readings will be available electronically, via the web, in PDF, MS Word, HTML, or similar format. You are welcome and encouraged to buy any of the books used.
LECTURE/DISCUSSION VIDEOS
All of the Zoom lecture/discussion sessions will be recorded. Recordings will only be made available to members of the class through a Google Drive.

NOTE: By attending this class you consent to being recorded.
Weekly Topics & Readings
Week 1: August 30
Course Introduction
Course Syllabus Overview
Student Introductions
How to create a WordPress Account, and make a Blog Entry
Discuss in Class (please Watch and Explore BEFORE class):

Watch: Werner Herzog, Lo and Behold: Reveries of the Connected World, 2016, 98 min.
Explore: Jon Huang, Karl Russell and Jack Nicas, "Apple's Value Hit $1 Trillion. Add Disney to Bank of America and... You're Halfway There," New York Times, August 2, 2018.
Labor Day
Week of September 6
NO CLASS

Week 2: September 13
What is Technology?
Required:
"Episteme-Techne," Stanford Encyclopedia of Philosophy.
Jacques Ellul, "Selections: pp. 1-21, 79-148," The Technological Society, Vintage Books, 1964.
Norbert Wiener, "The First and the Second Industrial Revolutions," in The Human Use of Human Beings: Cybernetics and Society. Boston, MA: Houghton Mifflin, 1950: 136-162.
Langdon Winner, "Do Artifacts Have Politics?," Daedalus, Vol 109, No 1, Modern Technology: Problem or Opportunity?, Winter 1980,, pp. 121-136.
Bruno Latour, "A Collective of Humans and Nonhumans," in Pandora's Hope: Essays on the Reality of Science Studies, Cambridge, MA: Harvard University Press, 1999: 174-215.
Recommended:
Langdon Winner, Autonomous Technology: Technics-out-of-Control as a Theme in Political Thought, MIT Press, 1977.
Bruno Latour, Aramis: or The Love of Technology, Cambridge, MA: Harvard University Press, 1996.
Siegfried Giedion, Mechanization Takes Command, Norton, 1948.
Week 3: September 20
The Luddites
Required:
Maurice E. Stucke and Jathan Sadowski, "I'm a Luddite. You Should Be One Too," The Conversation, August 9, 2021.
E. P. Thompson, "Time, work-discipline and industrial capitalism," The Past and Present Society, No. 38 (December 1967), pp. 56-97.
Erik Brynjolfsson and Andrew McAfee, Race Against the Machine: How the Digital Revolution is Accelerating Innovation, Driving Productivity, and Irreversibly Transforming Employment and the Economy, , 2011.
Recommended:
"United States v. AT&T", Wikipedia.
Week 4: September 27
What is Power?
Required:
Hannah Arendt (1959) "Chapter 1: The Human Condition," and "Chapter 2: The Public and the Private Realm" The Human Condition.
Jason Stanley, "The Philosophy of Fascism", The Philosopher, vol. 107, no. 2 ('Us and Them').
Recommended:
Hannah Arendt (1958) "Chapter 12: Totalitarianism in Power" The Origins of Totalitarianism.
Week 5: October 4
Authority, Knowledge, Expertise & Power
Recommended:
Micheal Foucault (1980) "Chapter 6: Truth and Power," and "Chapter 8: Eye of Power"Power/Knowledge: Selected Interviews and Other Writings 1972-1977.
Jean-Francois Lyotard (1984) The Postmodern Condition: A Report on Knowledge.
Required:
Michael Foucault, "III. Discipline, 3. Panopticism," in Discipline & Punish: The Birth of the Prison, New York: Vintage Books, 1975 (translated from the French by Alan Sheridan, 1977): 195-228.
Alexander R. Galloway and Eugene Thacker, "Protocol, Control, and Networks," Grey Room, 17, Fall 2004: 6-29.
Week 6: October 11
First Paper/Project Due (no blog post)
Economic Power & Exploitation
Required:
Hannah Arendt (1958) "Chapter 12: Totalitarianism in Power" The Origins of Totalitarianism.
Recommended:
Watch: "If You Know Nothing About Venture Capital, Watch This First," Forbes, March 23, 2016, 2 min.
Watch: "Venture Capital - Silicon Valley Ponzi Scheme - Chamath Palihapitiya," MAK, November 12, 2019, 13 min.
Robert H. Frank (2021) "The Economic Case for Regulating Social Media," New York Times, February 11, 2021.
Nick Srnicek, "Platform Capitalism," London School of Economics, Lit Fest, 2017.
Keach Hagey and Vivian Ngo, "How Google Edged Out Rivals and Built the World's Dominant Ad Machine: A Visual Guide," Wall Street Journal, November 7, 2019.
Dipayan Ghosh, "How the Free Market Incentivized Facebook's Harmful Monopoly," Center for International Governance Innovation, January 6, 2021.
Dipayan Ghosh and Nick Couldry, "Digital Realignment: Rebalancing Platform Economies from Corporation to Consumer," Harvard Kennedy School, Working Paper No. 155, October, 2020.
Keach Hagey and Suzanne Vranica, "How Covid-19 Supercharged the Advertising 'Triopoly' of Google, Facebook and Amazon," Wall Street Journal, March 19, 2021.
Rodrigo Fernandez, Ilke Adriaans, Reijer Hendrikse, and Tobias J. Klinge, "The Financialisation of Big Tech: Engineering Digital Monopolies," Centre for Research on Multinational Corporations (SOMO), December 17, 2020.
Watch: Jed Rothstein, "WeWork: Or the Making and Braking of a $47 Billion Unicorn," Hulu, 2021, 106 min.
Nick Srnicek (2017) Platform Capitalism, Polity Press, 2017.
Watch: "Chamath Palihapitiya, Founder and CEO Social Capital, on Money as an Instrument of Change," Stanford Graduate School of Business, November 13, 2017, 56 min.
Watch: The Inventor: Out for Blood in Silicon Valley, HBO, 2019, 119 min.
Listen: Rebecca Jarvis, The Drop Out, ABC Audio, February, 2019, 180 min.
Lia Russell, "The Silicon Valley Economy Is Here. And It's a Nightmare," The New Republic, January 16, 2020.
Sarah Kessler, "The Unequal Geography of the Gig Economy," The Atlantic, June 5, 2018.
Jill Cowan, "The Uber Battle on California's Ballot," New York Times, October 22, 2020.
Edward Ongweso Jr. "What Is 'IC+', Uber's New Plan to Warp Labor Laws Nationwide?," Motherboard, November 19, 2020.
Suhauna Hussain, "California Supreme Court throws out challenge to Prop. 22 ," Los Angeles Times, February 3, 2021.
Sam Schechner and Parmy Olson, "Uber Grants Vacation Pay, Pensions to U.K. Drivers in Change of Job Status," Wall Street Journal, March 16, 2021.
Patricia Callahan, "Amazon Pushes Fast Shipping but Avoids Responsibility for the Human Cost," New York Times, September 5, 2019.
Irani, L., (2015) "Difference and Dependence Among Digital Workers: The Case of Amazon Mechanical Turk," South Atlantic Quarterly, 114(1).
Watch: "The Cooperative Platform Economy: A Conversation with Trebor Scholz & Yochai Benkler," Civic Hall, February 27, 2017, 86 min.
Nick Romeo, "Should Gig Work Be Government-Run?," New Yorker, March 23 2021.
Recommended:
Sarah Kessler (2018) Gigged: The Gig Economy, the End of the Job and the Future of Work, Random House, 2018.
Trebor Scholz (2017) Uberworked and Underpaid: How Workers are Disrupting the Digital Economy, Polity, 2017.
Trebot Scholz and Nathan Schneider (eds.) (2017) Ours to Hack and Own: The Rise of Platform Cooperativism, A New Vision for the Future of Work and a Fairer Internet, O/R Books, 2017.
Watch: Jamie Bartlett, "The Disruptors," BBC, August 6, 2017, 59 min.
Week 7: October 18
Surveillance Capitalism & The Attention Economy
Required:
Shoshana Zuboff, "The Coup We Are Not Talking About," New York Times, January 29, 2021.
Shoshana Zuboff, "The Big Other: Surveillance Capitalism and the Prospects of an Information Civilization," Journal of Information Technology, 30(1), 2015, pp. 75-89.
Watch: Jeff Orlowski, The Social Dilemma NetFlix, 2020, 94 min.
Watch: VPRO Documentary, "Shoshana Zuboff on surveillance capitalism," You Tube, December 20, 2019, 50 min.
John Lanchester, "You Are the Product," London Review of Books, August 17, 2017.
Watch: Tristan Harris, "How a handful of tech companies control billions of minds every day," TED, July 28, 2017, 17 min.
Carissa Veliz, Privacy is Power: Why and How You Should Take Back Control of Your Data, Melville House, 2021, Intro, Chapters 3, 4, 5 & 6.
Recommended:
Shoshana Zuboff, The Age of Surveillance Capitalism: The The Fight for a Human Future at the New Frontier of Power, Public Affairs, 2018.
Antonio Garcia Martinez, "I Helped Create Facebook's Ad Machine. Here's How I'd Fix It," Wired, September 22, 2017.
Watch: Tim Wu, "Talks at Google: The Attention Merchants" YouTube, December 16, 2016, 35 min.
Tim Wu, The Attention Merchants: The Epic Scramble to Get Inside Our Heads, Vintage Books, 2016.
Watch: Tim Wu, "The Attention Merchants", 2017 Grafstein Lecture in Communications, University of Toronto Law School, YouTube, April 13, 2017, 88 min.
Week 8: October 25
First Paper/Project Due (no blog post)
What is Social Change?

Required:
Hannah Arendt (1959) "Chapter 5: Action" The Human Condition.
Hannah Arendt (1963) "Chapter 1: The Meaning of Revolution" On Revolution.
Fred Turner (2017) "Don't Be Evil: Fred Turner on Utopias, Frontiers, and Brogrammers," Logic, Issue 3, December 1, 2017.
Martin Robbins (2012) "The trouble with TED talks," New Statesman, September 10, 2012.
Watch: Pat Kelly, "Thought Leader," CBC Comedy, June, 2016, 4 min.
Watch: Will Stephen, "How to sound smart in your TEDx Talk," TEDx Talks, January 15, 2015, 6 min.
Recommended:
Week 9: November 1
Participatory Methods
Required:
Davydd J. Greenwood, "Theoretical Research, Applied Research, and Action Research: The Deinstitutionalization of Activist Research," in Engaging Contradictions: Theory, Politics, and Methods of Activist Scholarship, Charles R. Hale (ed.), Berkeley: University of California Press, pp. 319-340.
Asaro, P. (2000). "Transforming Society by Transforming Technology: The Science and Politics of Participatory Design,"" Special Issue on Critical Studies of Information Practice, Accounting, Management and Information Technologies, 10 (4), pp. 257-290.
Recommended:
Week 10: November 8
Voting
Required:
Timothy B. Lee (2020) "The Internet's most important—and misunderstood—law, explained," Ars Technica, June 10, 2020.
Recommended:
Week 11: November 15
Education Guest Lecturer: Nick Lee-Romanoglo, Amazon AWS Education Outreach
Required:
Rebecca Bellan, "Americans Want Transparency In Content Moderation Decisions On Social Media," Forbes, June 19, 2020.
Chris O'Brien, "NYU Study: Facebook's content moderation efforts are 'grossly inadequate'," VentureBeat, June 7, 2020.
Casey Newton, "Facebook will pay $52 million in settlement with moderators who developed PTSD on the job," The Verge, May 12, 2020.
Svea Windwehr and Jillian C. York, "Facebook's Most Recent Transparency Report Demonstrates the Pitfalls of Automated Content Moderation," Electronic Frontier Foundation, October 8, 2020.
David McCabe, "How a Stabbing in Israel Echoes Through the Fight Over Online Speech," New York Times, March 24, 2021.
Brian Hauss, "Devin Nunes' Cow Has a First Amendment Right to Call Rep. Nunes a 'Treasonous Cowpoke'," ACLU, December 1, 2019.
Alex Hern, "Facebook, Apple, YouTube and Spotify Ban Infowars' Alex Jones," The Guardian, August 6, 2018.
Dipyan Ghosh, "Taking Trump Down Has Exposed Social Media's Inherent Contradictions," Foreign Policy, January 26, 2021.
Corynne McSherry, "Content Moderation and the U.S. Election: What to Ask, What to Demand," Electronic Frontier Foundation, October 26, 2020.
Jacob Mchangama, "Rushing to Judgment: Examining Government Mandated Content Moderation," Lawfare, january 26, 2021.
Aaron Jue and Jason Kelley, "EFF at 30: Saving Encryption, with Technologist Bruce Schneier," Electronic Frontier Foundation, December 9, 2020.
Recommended:
Anthony Nadler, Matthew Crain, and Joan Donovan, "Weaponizing the Digital Influence Machine: The Political Perils of Online Ad Tech," Data & Society, October 17, 2018.
"The Santa Clara Principles On Transparency and Accountability in Content Moderation," Content Moderation at Scale Conference, Santa Clara, CA, February 2, 2018.
"Christchurch Call to Action to Eliminate Terrorist and Violent Extremist Content Online," March, 2019.
Week 12: November 22
Healthcare

Required:
Carissa Veliz, Privacy is Power: Why and How You Should Take Back Control of Your Data, Melville House, 2021, Intro, Chapters 3, 4, 5 & 6.
Russell Brandom, "Everything you need to know about GDPR," The Verge, May 25, 2018.
Issie Lapowsky, "Platforms vs. PhDs: How tech giants court and crush the people who study them ," protocol, March 19, 2021.
Watch: "Apple vs Facebook: The Privacy Battle" Tech Vision, December 26, 2020, 6 min.
Jim Dempsey, Chris Jay Hoofnagle, Ira Rubinstein, Katherine J. Strandburg, "A Broader Look at Privacy Remedies," Lawfare, April 7, 2021.
Recommended:
"California Consumer Privacy Act," Wikipedia.
Week 13: November 29
The Environment & Climate Change
Required:
Paola Rosa-Aquino, "Fix, or Toss? The 'Right to Repair' Movement Gains Ground," New York Times, October 23, 2020.
Vianney Vaute, "Right To Repair: The Last Stand In Checking Big Tech's Power Grab," Forbes, February 18, 2021.
Elizabeth Kolbert, "How Much of Your Stuff Belongs to Big Tech?," The New Yorker, March 8, 2021.
Lee Rainie and Maee Duggan, "Auto insurance discounts and monitoring," Pew Research Center, January 14, 2016.
John M. Vincent and Cherise Threewitt, "How Do Those Car Insurance Tracking Devices Work?," U.S. News and World Report, February 26, 2018.
John Hensley, "The Risks of Using Car Insurance Tracking Devices," Hensley Law Blog, October 10, 2019.
Brian X. Chen, "Apple AirTag Review: A Humble Tracker With Next-Generation Tech," New York Times, April 28, 2021.
Robert Föehl, "Police use of Ring doorbell cameras — poor ethics or public good?," The Hill, September 12, 2019.
Joseph Jerome, "Alexa, is Law Enforcement Listening?," Center for Democracy & Technology, January 4, 2017.
Shira Ovide, "The long, painful path of net neutrality," New York Times, February 25, 2021.
Klint Finley, "The WIRED Guide to Net Neutrality," Wired, May 5, 2020.
Joan McCarter, "Net neutrality is coming back under Biden," Daily Kos, February 11, 2021.
Andrew Perrina and Sara Atske, "7% of Americans don't use the internet. Who are they?," Pew Research, April 2, 2021.
Jabari Simama, "It's 2020. Why Is the Digital Divide Still with Us?," Governing Daily, February 28, 2020.
Recommended:
Explore: "Advocacy," Repair.org, 2021.
"UK Consumer Rights Act 2015," Wikipedia.
"Electronics Right to Repair," Wikipedia.
Week 14: December 6
Final Presentations
No Blog Entry, Work on Final Projects

Week 15: December 13
Final Presentations
No Blog Entry, Work on Final Projects

FINAL PAPER/PROJECT DUE: December 17
Submit (electronically) Final Paper/Projects Due by 8pm ET, Friday, December 17.